Seniors Birthday Party ideas
For Entertainers and Activity personnel in Nursing Homes - Assisted Living - Independent Living Communities - Rehab facilities, at home, etc.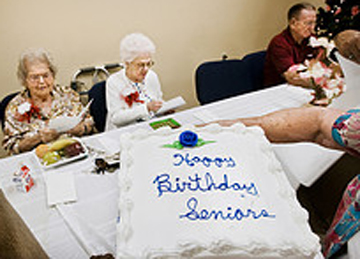 Monthly birthday parties:
Of course, all of the residents or clients are invited. In a facility, a nice touch is to invite the families of the people being feted.

Balloons tied to the chairs of the residents celebrating their birthday that month identify them to everyone in the room. A large lettered name tag or a birthday hat also works well. I like the banner in the room with the names.
The entertainer should have a name list of the birthday people so that their names can be mentioned at the party.
"Ok, all together now let's sing "Happy Birthday"!

As an entertainer, I like to bring attention to those folks by using their names in songs, in the place of the original.
Ex: "K K K Katy" can become "Ma Ma Ma Mary" or "If You Knew Suzie", can become "If You Knew (whoever)".
By focusing on the people celebrating their birthday, you can make them feel special rather than just another attendee at a party. There has to be birthday cake and maybe ice cream.

Individual diet requirements are an issue. The activity personnel have to be aware of which residents can have certain kinds of food. An alternative goody for those who must avoid sugar is a good idea.


What I have found to be critical is that activity personnel interact with residents by encouraging hand clapping and dancing. The activity person sitting in the corner just watching the residents just in case they fall, while twiddling their thumbs out of boredom, is pretty much a useless employee. Volunteers are always a bonus. They can all work to make the party fun, as long as they don't interrupt the flow being created and led by the entertainer.

Humor is the best medicine. Jokes and fun interaction are really a cool idea.
As long as you can keep people singing and laughing and sometimes dancing as well, the party will be a success.

This works well with residents who are in assisted living facilities or independent living facilities, who have dementia and Alzheimer's, as well as seniors who live at home.